Instead of assuming DC to be straight and trying to determine the length of EF, one can assume EF to be the length of the other verticals and try to determine whether DC is straight. For the answer I will use an unconventional way, by turning from two dimensions to three (consider their non-Euclidean use and an ancient one). The present plane can in three dimensions accordingly be viewed from a side, when appearing as if a straight line. Of interest now is so viewing lines, specifically the above assumed equal verticals and AB. AB would be seen as a point, and the verticals as a single line. (The view is isometric, when size does not change with perspective, as it should not for comparison.) Now because the verticals are of equal height, their upper ends will also coincide in a single point, signifying a straight line. Therefore DC is a straight line equidistant from straight line AB,
in equivalence to the 5th postulate. (The corresponding equidistance of parallel lines is a feature implied by the postulate.)
I may add that the three-dimensional way does not somehow violate Euclid, because the issue is to prove the 5th postulate by any method at disposal. Furthermore, as noted, e.g., by T.L. Heath in A Manual of Greek Mathematics, pages 175 or 216, "Plato had defined a straight line as 'that of which the middle covers the ends' (i.e. to an eye placed at one end and looking along the line), and Euclid's 'line which lies evenly with the points on itself' may well be an attempt to express Plato's idea in terms excluding any appeal to sight".
| | |
| --- | --- |
| 16 May 2005. As time passes, new things occur to me that I feel I want to add to this website, as I've done previously, and this time I am inserting something about the pentagon. Its construction has been seen as one of Euclid's special achievements, because it is based on a great deal of preliminary work by him. It is in fact interesting how beside supplying proofs for his construction, its mere carrying out by him is very elaborate. The reader should not be misled thinking the two pictured below as his; they both are much simpler but again utilize means not Euclidean. Let me indicate the many steps he takes. In IV.11 he shows how to inscribe in a given circle a regular pentagon; for this he first uses intricate IV.10, which in turn uses constructions in II.11, IV.1 and IV.5; of these, II.11 uses I.46, and IV.5 uses I.10; among the last, I.46 uses I.11 and I.31; of these, I.11 uses I.3 which uses I.2, and I.31 uses I.23; the last then uses impressive I.22 which again uses I.3; going back to initial IV.11, it also uses IV.2 and I.9, the first of which uses III.16. The whole then results in the pentagon. |   |
 
 
 
At the start of that construction a triangle with each of two angles double the third angle is inscribed in the circle. The triangle at issue would be the incomplete one below with angles at A, B and E, in resemblance to a preceding heptagon drawing. A pentagon construction like the below has been supposed (e.g. in the book Euclid—The Creation of Mathematics by Benno Artmann) to have been made before Euclid, and it involves a marked ruler, for the here previously discussed "neusis" or "verging". The chosen distance AB is marked on the ruler, which is then so applied that one mark falls on a point E of extended line CD bisecting AB, and the other mark falls on a point F of arc ADH, while the ruler passes through A. The pentagon is then easily completed.

As seen on the preceding page, I have been able to use "verging" with only compass and unmarked ruler in all cases, not held possible without a marked ruler or other additional tool. In the present case, this is possible as follows. On arc ADH find a center F for arc BE such that EFA make a straight line.

 
However, there is yet a much simpler construction also using "verging" or "insertion", as shown on the preceding page regarding, for instance, a heptagon again. Below, on a given circle draw with center A an arc BC such that after drawing with center C arc AD, the arc drawn with center D from A will meet B.

Beside further simplicity, this construction, like the Euclidean one, allows choosing in advance the size of the circle and hence of the pentagon. The construction at left must instead postulate the length of AB and change to the desired size afterward. Correspondingly one has to also either circumscribe the would-be triangle ABE for the circle, or determine vertices G and H otherwise.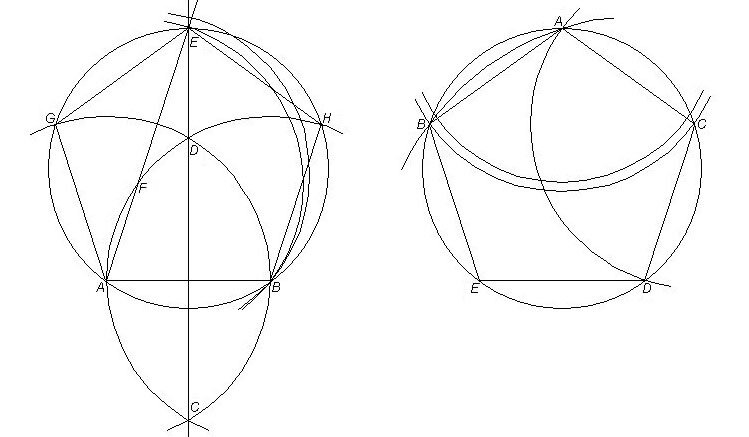 Using a simplified construction of the pentagon, rather than the Euclidean one, makes of course a whole lot of difference. The design is used in countless forms to decorate buildings and so forth, as is used the related pentagram (five-pointed star), for example on the U.S. flag and on military vehicles. It may accordingly be of more than mathematical interest that the pentagon, and other regular polygons, can as seen here be drawn by simply utilizing the property of circles to facilitate measurement by using their radii with differing centers.
25 May 2005. This time is of interest to me the regular 17-gon, famously found by Gauss to be constructible with only unmarked ruler and compass. Below I drew a version shown in the book by Robin Hartshorne (p.257) and which he called a particularly simple one. To make clear the amount of drawing involved, I in truth added most of the relevant steps that have to be taken. On the circle with center O and extended diameters OA and OB at right angles, get OC equal to 1/4 OA, for which I added the means of twice halving distances; with center C and distance CB draw arc meeting OA at D and E; with center D and distance DB draw arc for F; with center E and distance EB draw arc for G; with center H the midpoint of AF, found as shown again, and with radius HA draw arc for J on OB; with K the midpoint of OG, as shown, draw with center J and radius OK an arc meeting OA in L; to apply that radius here, by Euclid I.2, a point M equidistant from O and J is found, then the extended lines MO and MJ are drawn, whereupon with center O and radius OK arc KP and with center M and radius MP arc PN are drawn, giving wanted radius JN and arc NL. KL is then a side of an inscribed 34-gon.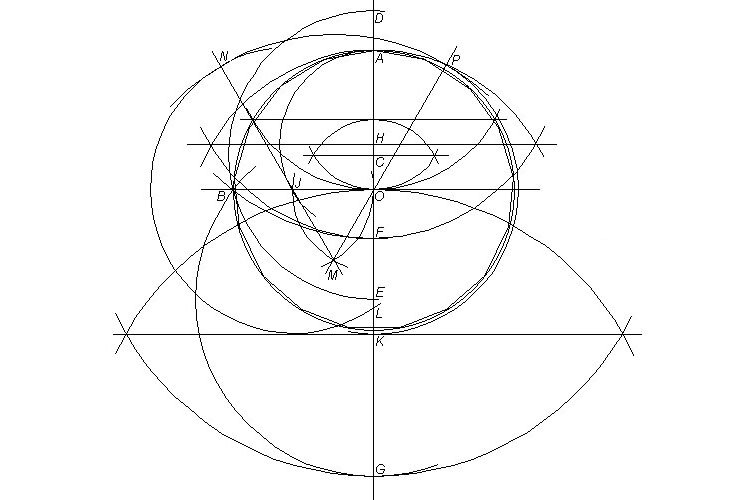 To transfer KL into the circle would require the same Euclidean way just shown (the diameters at right angles require more steps likewise), and of course it has to be transformed into a side of the 17-gon, whereafter, by mainly the repeated use of the compass as measuring device, the entire polygon must be constructed.
But as I showed elsewhere here, the polygons are constructible by such a use of the compass alone, in the indirect way of "insertion", by which the initial radius as side of the polygon is adjusted so that the final required point is met. A big irony is that an above seen method turns out to in practice be more indirect yet, because in the end one has to rely on the physical accuracy of the measuring devices like the compass, and in view of their limitations one has to continually adjust them to reach the required result. Thus with the many many steps in the preceding example there is a corresponding multitude of possible inaccuracies to be adjusted. This possibility is considerably reduced in the more direct use of sides of the polygons as I show on these pages. Moreover, in the above example, and in others—like the preceding heptagon, only a side of the polygon is determined, necessitating the very adjustment for the in the first sentence of this paragraph mentioned "insertion" to meet the final point required.
Below is accordingly a simple way I suggest for drawing the 17-gon by requiring only 5 arcs, which bring adjustments down to a minimum. The beginning double arcs on top merely indicate adjustment to the right radius, estimated for the side of the polygon, by with center A first drawing an arc BC; as subsequently easily seen, with center C is then drawn arc AD, then with center D arc AE, with center E arc AF, until with center F the arc through A goes through B.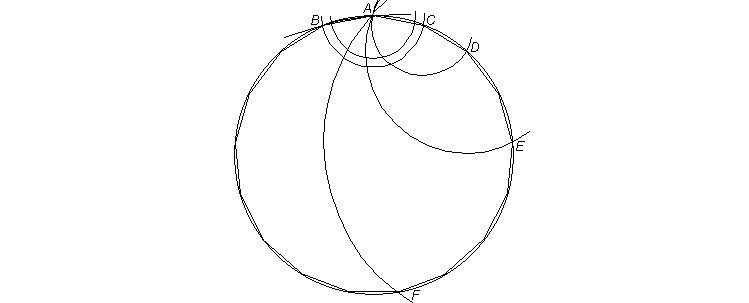 1 November 2005. I decided to squeeze in here another geometric subject, the Pythagorean theorem. As many readers no doubt know, it states that in a right triangle (one with a right angle) the square on the hypotenuse (the longest side) equals (in area} the combined squares on its other sides.

There exist many proofs of the theorem, but there may be less than a handful that are frequently shown, usually ones easily followed. The exception may be Euclid's own proof, at the end of his first book and one of some length and not quite obvious. It is regardless often repeated. Here I am taking a look at a couple of proofs sometimes called proofs without words. They in any event don't require too much comment, and no algebra, which is used for some others.